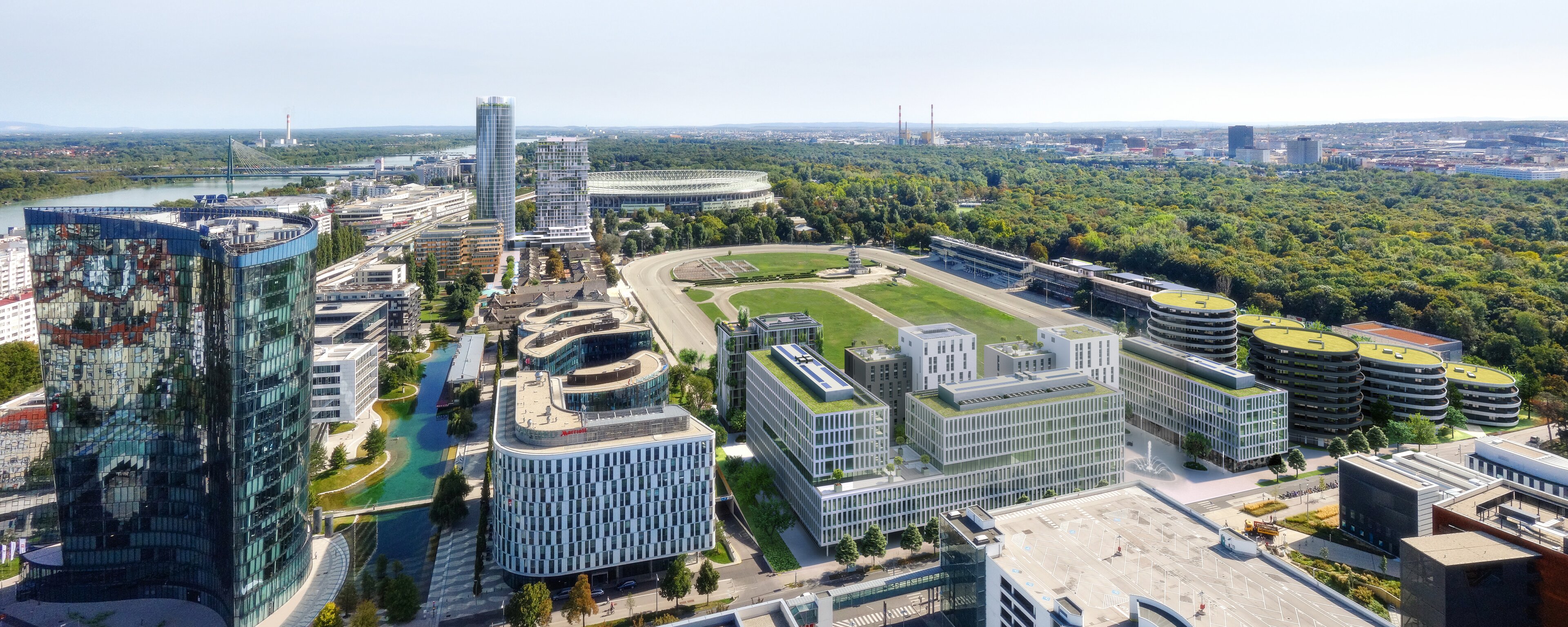 Residential & commercial
Viertel Zwei
1020 Wien
Lively, varied, urban and green: Viertel Zwei is located right by the "Green Prater", between two underground stations and in close proximity to the stadium and the historic "Trabrennbahn" horse racing track.
It only takes one look to feel right at home there. After all, the atmosphere at Vienna's most exciting urban development project is truly unique. While in 2004 the location was still a concrete desert in Vienna's Leopoldstadt district, today it is an inviting recreative oasis boasting plenty of green spaces and expanses of water.
So far, 7,000 people live and work there, surrounded by 13,000 square metres of green space and a 5,000-square-metre artificial lake. On a total area of 160,000 square metres, the property features office and commercial space, flats and student apartments as well as hotels with a gross floor area of 320,000 square metres.
Viertel Zwei
Project type

Residential & commercial
Location and surroundings
1020 Wien
Living and working at Viertel Zwei
Viertel Zwei is growing into a lively residential area and workspace with plenty of leisure opportunities, a perfect infrastructure and recreational spaces. The combination of flats and offices, kindergarten, student apartments, local shops and restaurants is a key factor for successful district development.
A combination of old and new
What makes Viertel Zwei so special is the harmonious combination of old and new. Buildings steeped in history are combined with modern designs, resulting in one big, coherent picture – as proven by our projects Stallungen ("stables") and Tribüne ("stand"). In close cooperation with monument conservation authorities, we treated the historic buildings as identity-establishing anchors that we wanted to honour by all means.
Sustainable urban development
With Viertel Zwei, Value One has set new standards in terms of energy efficiency and sustainable building and management. We not only respected the sensitive natural environment of the adjacent "Green Prater", but literally brought nature right into our project by way of a green façade and plenty of green spaces.
Krieau power plant provides access to Austria's biggest power network. The energy network uses renewable sources of energy like groundwater, terrestrial heat and solar energy for on-site energy production. The residual energy from the hot water and heating systems is fed back into the grid, thus significantly reducing carbon emissions.
In 2015, car-free Viertel Zwei was awarded a ÖGNI platinum certificate as Austria's first sustainable city district. A merit that makes us proud!
What the future looks like at Viertel Zwei
Phase three of the project is planned to be completed by 2023, providing living space for a total of 15,000 people. For this purpose, 500 million Euros are invested in the Korso residential project and the two high rises Grünblick and Weitblick as well as in the restoration of the stands and stables of the former horse racing track.
Stay tuned on the latest developments at Viertel Zwei!